Original air date: September 29, 1999
Pacey: Now, just to play devil's advocate here, let's say you go to school today and Joey comes up and starts apologizing. She does that cute little hair flip thing she does and locks those truly remarkable brown eyes of hers on you...what do you do?
He cries because he realizes that you have the hots for Joey and that means he has no chance at getting her back this season. Just you wait, you guys. No one believed me when I was a teen about this moment right here and at the end of the episode. No one. But oh how wrong they are. They just couldn't see the truth: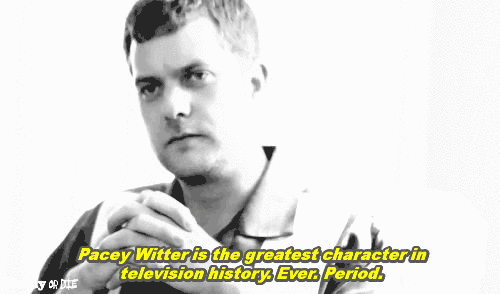 Yes, I will use this gif to death because it's the truth!
Just then, Mitch comes in and gives Dawson a rundown of where he'll be for the weekend and Dawson informs us that Mitch is now Capeside High's varsity football coach. Get it? Because Varsity Blues happened and was popular!
Let's just pray that Dawson doesn't sing the blues again
Oh Dawson's Creek writers, you are too cute. I love how blatant this all is. The only thing that would have made it even more blatant as to slap you in the face, is if Dawson became the team captain or some junk but thankfully, that doesn't happen. Mitch leaves for the weekend. I hope no wacky, Risky Business related high jinx ensue.
At school, Jack and Jen are sitting in the auditorium waiting for a school assembly to start. The head cheerleader, Belinda, who we have never met before, seems to have a problem with Jen. She asks Jen if she's had any gang bangs lately and I want to respond no, because Dawson totally cock blocked her the last time she tried for a Devil's Three way. Jen however comes back with a liposuction insult which makes Belinda sulk off. I guess that works.
The new Principal, Mr. Green, walks in and makes a clunky speech about how the kids at Capeside act like people twice their age which is totally a meta commentary on some of the criticisms that Dawson's Creek received. That the characters on the show don't act like actual teenagers because they are too mature. So this is kind of like the promise from the writers to correct that mistake, even though I thought most of them acted like teenagers last season save for a few very mature conversations, I suppose.
Pacey points out Joey to Dawson like some excited Joey/Dawson shipper and it's really annoying. I don't know why they are making him so invested in this when previously, he was annoyed by their whole thing but maybe the writers were trying to make us really surprised when Pacey eventually developed feelings for her, even though most of us knew he already had.
Mr. Green spots him talking and calls him out. Pacey introduces himself and Principal Green congratulates him for being the first student at Capeside to actually act like a student (Writers: See? We do write real teenagers! All you critics can suck it!). He then gives Pacey a Saturday detention.
There it is again
OK, sidebar for a minute here. What is with this show and Saturday detentions? Is this a throwback line to Season 1 or is this an actual thing that happens? Why? Why would any teacher want to give Saturday detentions? That just means that they have to be at work on Saturday too so why? I seriously want to know if Saturday detentions actually exist or if it's just a thing that happens on Dawson's Creek and in the Breakfast Club for plot reasons.
Cut to later and the cheerleaders are trying to sign people up for try-outs or not trying because apparently these cheerleaders don't want any new recruits unless they fit their mould. They turn away a girl for being too fat and then Belinda accuses one of her squad members of putting on a few which made the girl comfortable enough to approach them. This Belinda girl is needlessly rude, I hope no one comes along to giver her a comeuppance.
Cue Jen, who walks up and signs her name to the shock of everyone. Belinda tries to deny her but Jen challenges her to let her try out and Belinda accepts, I guess because she thinks Jen will humiliate herself or something.
Pacey and Dawson are talking in the hall when he spots Joey. Worried that he's going to crumble, Dawson asks Pacey to take him somewhere away from her and that will distract him. Pacey says he knows just the place.
Cut to Joey arriving home for dinner. Bessie proves that she is kind of a weird guardian for Joey and just weird in general because she starts excitedly asking her about what it was like seeing Dawson again. Why is everyone in town so goddamn obsessed with their non-relationship? Did nobody know how coldly and cruelly Joey dumped his ass? Let me refresh you guys: